Door colours
The style and particularly the colour of your door is one area where you can personalise your door which is why we offer a choice of 13 external colours white, black, blue, red, green, oak, dark wood, grey, cream, chartwell green, black-brown, duck egg blue, poppy red, which can be detailed to either match or contrast with your choice of door frame to give you the option to design your door the way that you want it to look.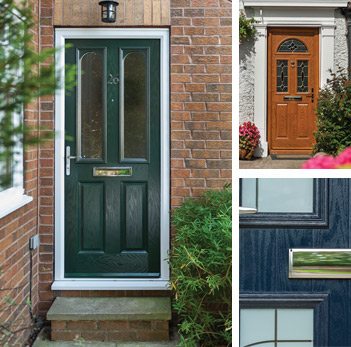 Available door colours

White, Black, Red, Blue, Green, Darkwood, Golden Oak, Grey, Cream, Chartwell Green, Black-Brown, Duck Egg Blue, Poppy Red
Frame colours
What can compliment your choice of door better than a contrasting colour of frame, we do our very best to give you all of the options you would want to match or contrast from with 9 external frame colours white, mahogany, cherrywood, oak, white grain, brown–black, grey, cream and chartwell green.
All of our door frames are co-ordinated with threshold, door drip and edges which combine together to make a truly striking appearance.